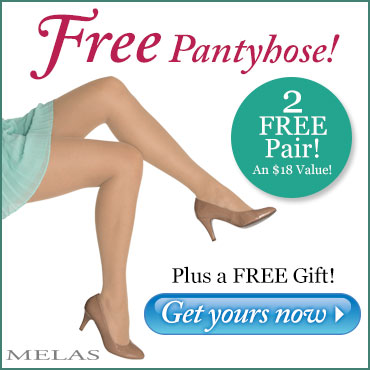 Enter the 2013 Pantyhose Giveaway and get Two Pair of Free Pantyhose from MELAS – an $18 value!  You'll just pay shipping of $3.95.
Feel sexy, slim and super-comfortable all day. Your legs, butt and tummy will all look great!
Body-slimming control tops and cotton gusset for a smooth and sleek look!
Your legs, butt and tummy will look great all-day!
BONUS GIFT – Mesh Laundry Bag
No obligation to buy anything else!
Get your two free pairs today!
Find more Freebies on Frugal Coupon Living.

HOT DEALS: Grab 20 5×7 Holiday (or any occassion) photo/personalized cards for $1.
Also grab Amazon Prime which includes FREE 2-Day Shipping, FREE Kindle Books, and FREE Video Streaming! YOU WANT THIS FOR THE HOLIDAY SEASON


Find this and updated daily deals on Frugal Coupon Living. Receive this and other Daily Deals for FREE in your inbox.