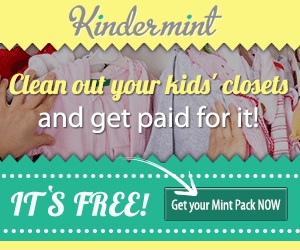 Do your kiddos have some old clothes lying around the house? Why not sell them and make some money to put into an account for them? Kindermint offers you the chance to do so for free! Just stuff your kids clothes in the FREE Mint Pack that they send you and send it back to Kindermint and then receive payment via check, direct deposit, or paypal! This sounds like such a neat way to get rid of some old clothes and make some money in the process!
Here's What You Need to do:
1. Order a free MINT PACK from Kindermint
2. Stuff the MINT PACK full of kids clothes you wish to sell
3. Drop the Pre-Paid MINT PACK in the mail (UPS or USPS)
4.Cash in! Your choice of check or deposit to your PayPal
Hot Offer: Join Remarkit and Receive a $50 Credit for Selling Your Kids Clothing! Also don't forget thredUp – a perfect place to buy and sell used clothing!



HOT DEALS: Looking for what's trending? Check out our Fashion Deals, Seasonal Deals, and Black Friday & Cyber Monday Deals on Frugal Coupon Living. See store opening times and full store Black Friday Ads too!
Also grab Amazon Prime which includes FREE 2-Day Shipping, FREE Kindle Books, and FREE Video Streaming!


Find this and updated daily deals on Frugal Coupon Living. Receive this and other Daily Deals for FREE in your inbox.